How to grow your podcast
With SEO and Google Ads
How to grow your podcast. Are you having trouble getting people to listen to your podcast? Maybe you've tried promoting it on all the major platforms and social media but still can't seem to get any traction. If that sounds like you, this guide is here to help. I'll show you how to use simple SEO techniques and easy-to-set-up Google Ads campaigns to grow your podcast audience. Stop struggling to get listeners and start reaching a bigger audience with these strategies that have worked for me and the podcasts I make.
A quick FYI about this blog
I'll be sharing tips and tricks with you that I've learned through my own personal experience of using SEO and ads to grow my audience. Your results may be different but I hope that you find this guide helpful. If you have any questions don't hesitate to get in touch.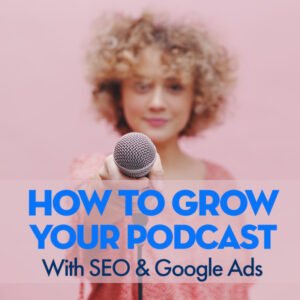 Introduction: How to grow your podcast
Get started with podcast SEO
Using Keywords to improve podcast website SEO
Get to grips with podcast transcriptions