Discover keywords for your podcast. In this post, identifying the search terms people are using that could lead them to your podcast.
It's time to start creating keyword ideas for your podcast website. We need to discover the search terms people are using around your podcast subject. For example, with a podcast like mine, these might be:
Gardening podcast

Podcasts about growing tomatoes

Planting carrots tutorial
We can use these keywords and phrases in podcast website headings, titles and text. However, it's important that we don't just look for the most popular terms because these tend to have lots of competition online. The idea is to find the most relevant keywords for your content with the least competition.
You may already have keyword ideas to hand, often they already exist in your episode titles or are scattered among the language in your podcast. Have these in mind as you use the Google Ads keyword planner.
Using the Google Ads keyword planner
This tool is designed to help people planning ad campaigns, but for now we just going to use it to look for popular search terms.
Go to the Google Ads website, sign up for free or login to your account.

Click on the "Tools and settings" icon in the top navigation bar, then select "Keyword Planner" from the dropdown menu.

In the "Discover new keywords" section, it will ask you to "enter products or services closely related to your business." Here try entering keyword ideas related to your podcast. e.g Try your podcast title or that of an episode. The aim here is to get keyword suggestions for your podcast subject area.

You can also enter a website or product category to get ideas for keywords.

Select your targeting options, including location, language, and device type.

Click on the "Get Results" button.

The tool will generate a list of suggested keywords and provide estimates for their search volume and competitiveness. You can use this information to help determine which keywords to target in your website text. (or Google Ads campaigns.)

To see estimates for different keyword match types, click on the "Add filters" button and select the match types you want to see.

You can also use the tool to create a new ad group or get estimates for a specific budget and bid amount. To do this, click on the "Create a new ad group" or "Get traffic estimates" buttons.

When you're finished, you can save your keywords and ad group ideas by clicking on the "Save to plan" button. You can then access your saved keywords and ad group ideas by clicking on the "Plans" tab in the Keyword Planner.
TIP! Collect lots of low-competition "long tail" keywords
A long-tail keyword is a specific, often lengthy phrase that is more targeted and less competitive than a short, broad keyword. Long-tail keywords are usually more specific and often include three or more words. For example, "best podcast about history of the cold war in europe" is a long-tail keyword, while "cold war" is a short, broad keyword.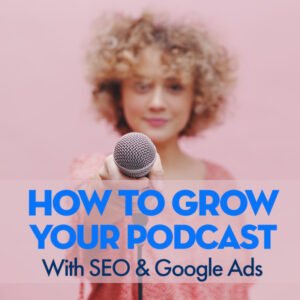 Introduction: How to grow your podcast
Get started with podcast SEO
Using Keywords to improve podcast website SEO
Get to grips with podcast transcriptions